Our Webinars
Jerel Bonner Hosts and Moderates Triangle Biotech Tuesday July 2020
As 2020 progressed into the summer months, many of us are pondering how will we know when business conditions will start improving.
In this interview, he talks with diverse business leaders to get a snapshot of what economic indicators are they tracking. They are:
Paula Barngrover, Development and Innovation Director of Iluma
Gaurav Shah, Global Director Adisseo
Amanda Elam, CEO Galaxy Diagnostics
Ted Benson's Productive Remote One On One's (O3's) Meetings April 2020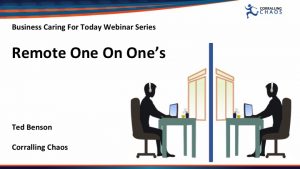 Managers must check on their employees to help them feel safe and understand their personal situation. Flexible work hours during this period are critical, as team members have different working conditions. Managers need to accurately evaluate and support staff's ability to be productive. Effective remote one on one's are vital to have a pulse on the company's systems during turbulent times.
Jerel Bonner's Productive Remote Meetings April 2020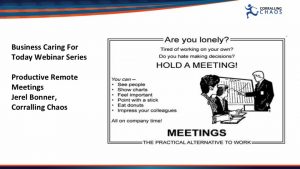 This session featured practical behaviors for managers to be their sharpest in remote meetings. Remote meetings have increased to unprecedented levels overnight, while employees are under personal stress unimagined a few weeks ago. This webinar focused on how to lead productive remote meetings, so managers can adapt, change, and simplify meeting structures.
The webinar starts at 2:20 of the video
Ted Benson's Triangle Biotech Tuesday April 2020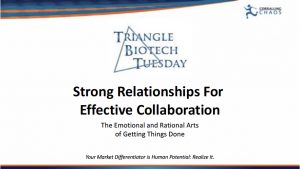 The key to success in any social endeavor is relationship. No matter the size of your company, you need to build and maintain strong business relationships, inside and outside your firm. But how do you do that with efficiency & impact?
Our Interviews of Market Experts
Don Alexander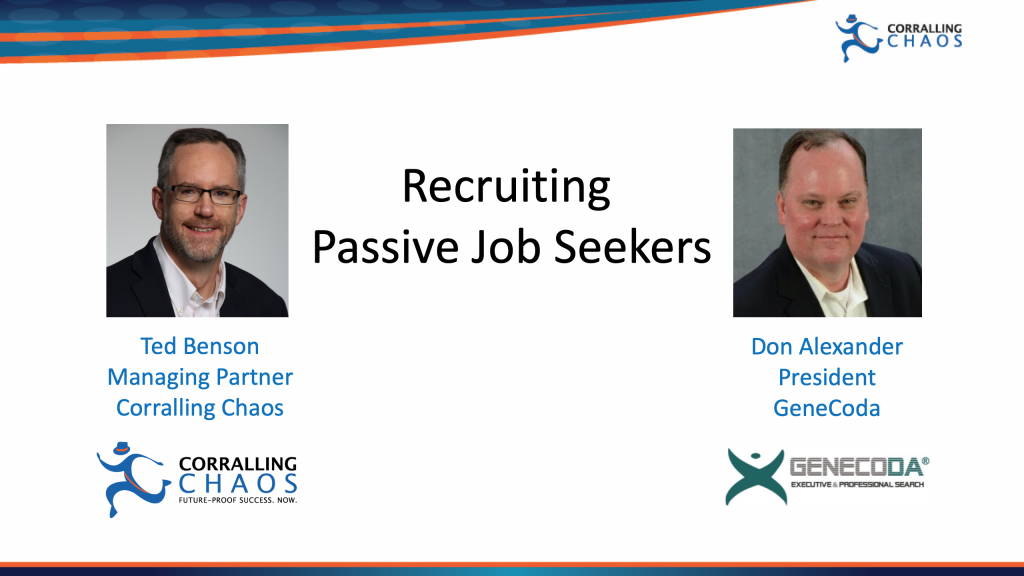 Managing Partner Ted Benson interviews Don Alexander of Gene Coda on how to find and recruit passive job seekers. Such job seekers are great job candidates – they're often exceptionally-capable, top performers.  But they're hard to find and attract. As President and Managing Director at Gene Coda, an executive and professional search & recruitment firm, Don knows how to find them and how to tap them. Listen to learn more!
There are two episodes to this interview.
Episode 1
Episode 2
Will Barfield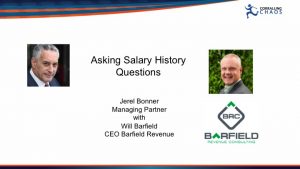 Managing Partner Jerel Bonner interviews Will Barfield of Barfield Revenue Consulting about how the market conditions are changing the way companies can obtain information related to a candidates compensation package. Learn how to ace these steps during the interview process.
There are two episodes to this interview.
Episode 2

Episode 1
Our Podcast Appearances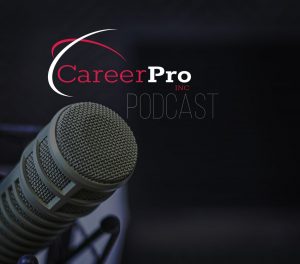 CareerPro President John O'Connor talks with Jerel Bonner how to differentiate yourself as a candidate and how to differentiate yourself as a candidate and company. What are the best companies doing to stay competitive as you adapt and change? Are you ready? Here is how top candidates and companies think.
Returning for his second interview on the Leading Learning Jerel joins Jeff to discuss the idea of flow and its connection to learning, as well as how it relates to other major concepts including grit, mindset, and authentic happiness. They also talk about why this is all going to be increasingly important in helping others prepare for the future of work—and life.
Ryan O'Donnell – the Host of PeopleTalk – talks with Jerel Bonner, of Corralling Chaos about measuring employee value on this episode of PeopleTalk.
Jerel will discuss some key changes HR will have to tackle to attract better candidates, and how hiring managers can fill positions faster.
Paul Millerd interviewed Jerel Bonner, Managing Partner of Corralling Chaos. In this podcast, Jerel shares with Paul how Jerel built a "Mission Driven Career".
Jerel sees himself as one of the original "job-hoppers." While he never found a true fit in the corporate world, in the 1990s, he was inspired by Steven Covey to write a "personal mission statement."  Here is Jerel's story on how his mission statement helped drive his career.
Chuck Solomon interviewed Ted Benson, Managing Partner of Corralling Chaos.  Ted shared his insights into how to improve the job candidate experience for 1) hiring managers – to accelerate hiring without compromising quality – and 2) job seekers – to help them stand out.   Pay special attention to his practical tips for hiring managers as well as those interviewing for new job opportunities.
Chuck Solomon interviewed Jerel Bonner, Managing Partner of Corralling Chaos. Together they discussed the good, bad and ugly of the candidate journey.
Hiring Managers should pay special attention to my guest's suggestions on how to go about building their teams. He also offers job candidates advice on how to go about finding their next great job opportunity. Here's a hint, it's doesn't include applying online.

We are proud to announce that Jerel's podcast "Becoming a Knowledge Worker' made the 2018 Top 10 List on Leading Learning.
With all the uncertainty around what the future of work will look like there is one thing that is certain: in order to thrive you will need the necessary skills and mindset to continually adapt and change.
Jerel Bonner embodies this type of agile learning mindset as he is a walking, talking model of the new knowledge worker. He's also a TEDx speaker, author of Sharpening China's Talent,  and co-founder of Coralling Chaos, a consulting firm focused on lowering the cost of the workplace through learning agility.
Visit the Leading Learning Podcast for the show notes and more great podcasts.